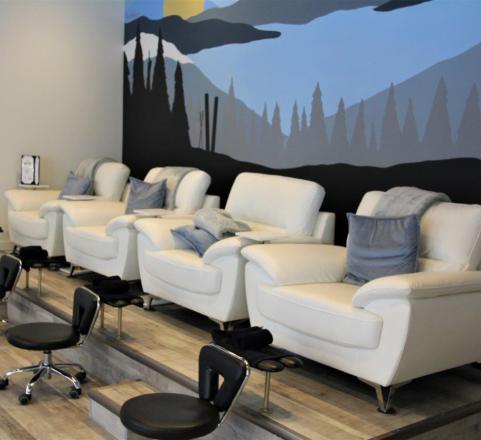 iwa Spa is a full-service wellness spa, based in beautiful Blue Mountain Village. Michelle Ubell opened the doors to this luxury experience in September of 2015 inspired by her own passion for wellness. The spa offers a wide range of services, creative spa packages, a boutique loaded with amazing products and activewear, and a truly one-of-a-kind yoga practice in the warm volcanic rock studio (Ganban-yoku).  
"I was originally introduced to Ganban-yoku by my friend that was struggling with her own health and wellness.  She found that it was the only thing that made her feel better," recalls Michelle. "Considering my own passion for wellness, entrepreneurship and understanding that we're living in a very wellness-centric community, the idea for a new business model started to take shape, and I began my research. Ganban-yoku is a kind of thermal relaxation therapy that originated in Japan.  You lie on stone beds that are made of volcanic rock with strong therapeutic properties. When heated the rocks emit infrared heat and negative ions which have been found to be highly beneficial to our health and wellbeing." she explains.
Fun Fact:  iwa stands for Inspiring Wellness Always and it also means rock in Japanese.
Since opening the doors to the spa, iwa has won over 20 awards, including the Canadian Spa & Wellness Award for Top New Spa in 2015.  Michelle credits this ongoing success to her team culture.  "We strive to always offer a great guest experience, and we're grounded in karma which stands for what we believe in. Kindness, attitude, respect, manners, and accountability," confirms Michelle.
In February of 2022, Michelle and Spa Director, Jenevieve Dennis began a series of strategic planning sessions to conduct a reassessment of the iwa brand and envision what the future might look like.   "We decided that it really made sense to extend the reach of the brand and create Beauty Bar by iwa in a second location in the Village.  It was at that point when Jenevieve and I began discussions about a partnership.  Jenevieve started as a part-time employee at the spa taking care of marketing and group bookings, and each performance review resulted in a promotion for her.  It was an immensely proud moment for both of us when we had our official Grand Opening and Ribbon Cutting Ceremony for Beauty Bar by iwa in February of 2023." recalls Michelle proudly.
Beauty Bar by iwa offers luxury beauty-based services, including first-class waterless manicures and pedicures, blow dry bar, brows, lashes, make-up, retail, cocktails, and good vibes.  
Both locations are licensed and have wonderful retail boutiques and patios to enjoy.  iwa Spa and Beauty Bar by iwa are perfect for bridal parties, couples, or anyone looking to make an investment into a luxury wellness experience.  If you feel good, you look good, and if you look good, you feel good.   
To book an experience or find out more about iwa Spa or Beauty Bar by iwa visit their websites https://iwaspa.com/.